Robustel deliver on their commitment to IoT software services with successful cyber-security audit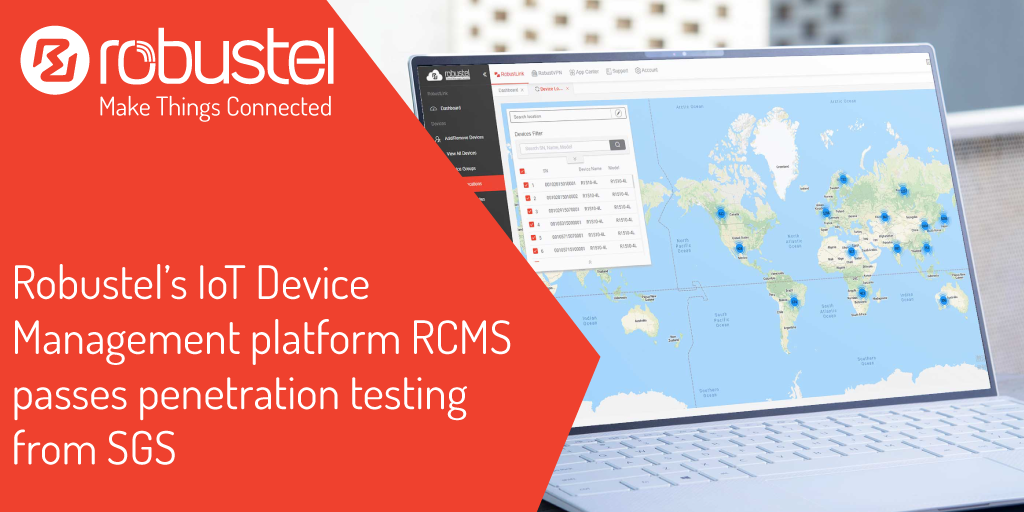 Guangzhou, China: Robustel today announced the successful completion of thorough penetration testing by SGS on its IoT device management software Robustel Cloud Manager Service (RCMS). This milestone is a major move for Robustel on its mission to ensure its IoT software services are delivered with the same integrity and standards as its long-standing portfolio of IoT routers, modems, and gateways.


"When we first developed RCMS, our goal was for customers to experience the same feeling of reassurance when using our software as they do with our devices," says James Mack, Vice President, IoT Cloud at Robustel.
"Working with a leader in cyber-security like SGS has allowed our team to focus on how we can offer a feature rich cloud-based IoT software solution to a global market in an age where IoT security is a hot button issue."


During the testing period, SGS subjected both the Cloud Hosted SaaS version of RCMS and the on-premises software package RCMS STACK to rigorous penetration testing, using best practices from both the Open Web Application Security Project® (OWASP) and Web Application Security Consortium (WASC).


The testing concluded that the RCMS platform had zero identified vulnerabilities and should be declared as a wholly safe system.


The RCMS Cloud platform is currently used in over 70 countries helping companies manage their fleet of Robustel devices from small scale deployments to large enterprise fleets with the ability to scale to manage over 100,000 connected assets.


To learn more about RCMS, visit: https://www.robustel.com/en/robustel-cloud-manager-service/


About Robustel: Robustel manufacture industrial-quality solutions for the IoT and M2M market. Our portfolio of award-winning solutions includes Wireless Modems, Routers, Gateways, EDGE Computing, Cloud Software and End-to-End IoT solutions.
Robustel are committed to helping businesses and industries across the world continue to solve their IoT & M2M problems. We do this by offering robust, secure, scalable and creative solutions, from hardware to complete 'IoT-in-a-box' services.


About SGS: Headquartered in Geneva, Switzerland; SGS are one of the world's leading testing, inspection, and certification companies.
As the global benchmark for quality and integrity, SGS are committed to enabling a better, safer, and more interconnected world. With more than 89,000 employees, SGS operate a network of more than 2,600 offices and laboratories around the world.