Robustel are pleased to announce that our new 5 port industrial dual-SIM cellular router the R1520 is now CE and RCM Approved for sale in Europe & Oceania.
The CE mark is a worldwide certification mark indicating conformity with health, safety, and environmental protection standards for products sold within Europe; while the RCM approval ratifies electrical safety, energy efficiency for the electrical equipment for sale into the Australian and New Zealand markets.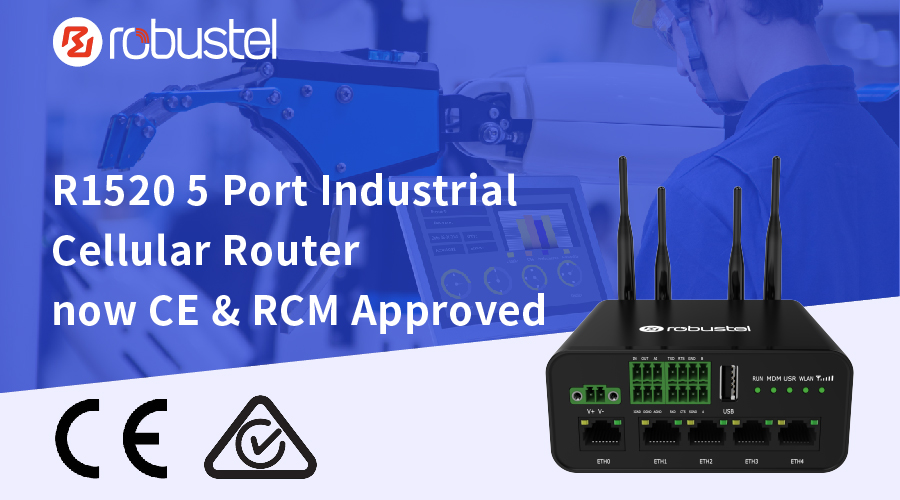 Despite a sizable demand in the IoT marketplace, Robustel continue to follow best practice within the wireless industry by obtaining CE approval as a minimum before bringing a product to market. This is to make sure that our global network of distributors and re-sellers have access to best in class, compliant hardware with a cost-effective price point.
With 5 ethernet ports including optional WAN failover the R1520 is the ideal solution for a host of IoT applications such as Smart Cities, Security, In-Vehicle, Enterprise Networks, Utilities and more.
R1520 Highlights:
5 Ethernet ports
Wi-Fi
WAN failover
Dual-SIM
RS232 & RS485 Industrial Interfaces,
GNSS/GPS
Analogue Input
Digital I/O
For more detailed information visit https://www.robustel.com/product/r1520-industrial-dual-sim-cellular-vpn-router/
With connectivity to Robustel's IoT Cloud Device Management software RCMS (https://www.robustel.com/robustel-cloud-manager-service/) as standard, the R1520 is the perfect entry level router for rapidly deployable, scalable and cost-effective IoT solutions globally.