Robustel are pleased to announce our first 5G Industrial IoT router – the R5020, offering support for global 5G, 4G and 3G bands with support for 3GPP Release 15.
With its on-board smarts, compact size and a competitive price point the R5020 is the perfect solution for customers looking to make the jump to 5G. Offering a similar form factor and feature set to Robustel's popular R2110 series router the R5020 is also an ideal transitional product for existing Robustel customers to move from LTE to 5G.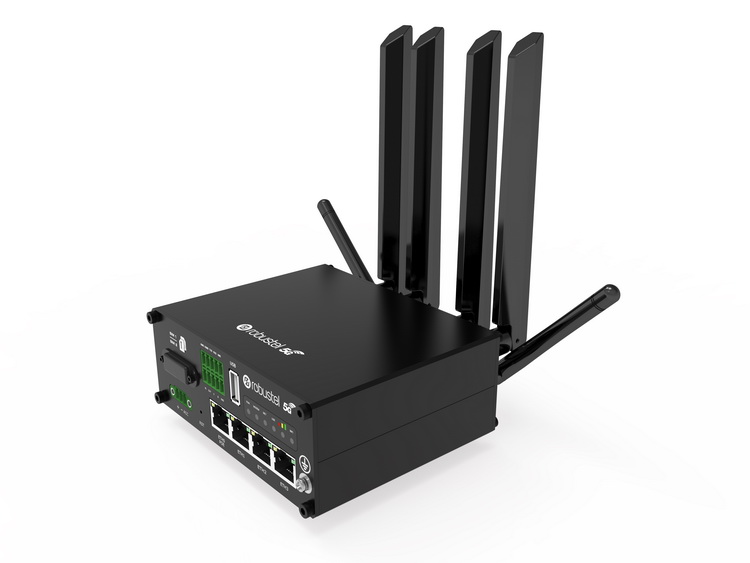 The R5020 is powered by Robustel's proprietary operating system RobustOS, a Linux-based OS with a clean, simple and modular user experience developed by Robustel specifically for use in Robustel devices. With additional CPU capabilities compared to traditional LTE routers the R5020 also offers the ability for customers to perform more in-depth EDGE computing tasks through writing applications using the RobustOS Software Development Kit (SDK).
Suitable Applications
With its on-board smarts, compact size and a competitive price point, the R5020 is the perfect solution for In-vehicle Applications, Fixed-Line Replacement and Failover with minimal configuration or engineering requirements. With its industrial interfaces the R5020 also opens doors for IoT applications in manufacturing, agriculture, security and smart cities that need high speed internet access.
KEY FEATURES of R5020
Global 5G/4G/3G cellular coverage
Supports Ethernet, Wi-fi and 4G/5G internet with WAN-failover
Fully programmable Operating System with a well documented SDK
Multiple industry standard VPN options available including DMVPN & IPSEC
GNSS/GPS & ignition sensing for in-vehicle applications
Powerful device management and monitoring functions through RCMS
Industrial strength metal enclosure with a small footprint – DIN-rail + wall mount options
About Robustel
Robustel is one of the world's leading manufacturers of industrial quality solutions for the IoT and M2M market. Robustel's portfolio of award-winning solutions are comprised of: Wireless Modems, Routers, Gateways, EDGE Computing, Cloud Software and End-to-End IoT solutions.
As a supplier of wireless IoT hardware Robustel works with over 50 distribution partners servicing more than 120 countries and maintains a dedicated local presence in: Germany, Australia, Japan, UK, the Netherlands and Hong Kong.
Today Robustel's solutions can be found in every corner of the 'Connected World' providing IoT solutions to industries as varied as: Security, Vending, Retail, Utilities, Oil & Gas, Industrial Production & Automation, Transportation, Environmental Services and Healthcare.