Robustel's new lite industrial Cellular Dual SIM IoT Gateway R1520 is a versatile 4G router with 5 x Ethernet ports, GPS and E-mark certification for in-vehicle use.
Despite being cost-effective, the R1520 is a powerful router with high packet-forwarding. With high performance beyond the typical requirements of LTE CAT4 networks, other hardware features of R1520 include optically isolated digital inputs and outputs as well as a 10-bit analogue input capable of interfacing directly with sensors.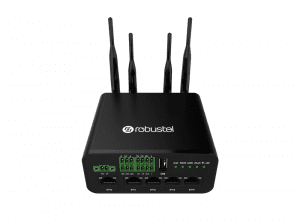 For customers managing legacy devices the R1520 comes equipped with a 2-wire RS485 interface for connection to legacy instruments with full support for Modbus. The RS232 port features RTS/CTS lines so the R1520 can accommodate applications that require hardware handshaking.
With mass IoT adoption growing rapidly and legacy devices being threatened by global 3G sunsets Robustel saw a gap in the market for a full featured but cost-effective router. Since first unveiling the R1520 we have seen high demand from our global network of system integrators, IoT application developers and mobile network operators looking to provide a competitively priced gateway in an industrialized housing.
As with all Robustel products the R1520 gateway is based on RobustOS, a proprietary Linux-based programable operating system that was developed to empower customization and improve performance of Robustel devices at a software level.
Either through an extensive library of pre-built apps or by using Robustel's RobustOS Software Development Kit (SDK) customers can see the full potential of the R1520 come to life by integrating I/O with HTTPS/MQTT/Modbus/SNMP and so much more.
All R1520 devices come with RCMS as standard, Robustel's cloud based device management software allowing users to deploy, configure and maintain their fleet of Robustel devices from anywhere in the world.
With it's compact size, GNSS, DI/DO, serial communication, LTE speeds and a competitive price point, the R1520 is the perfect IoT gateway for nearly every vertical in the IoT ecosystem, including:
Retail – Point of Sale, ATM, Kiosks, Vending Machines
Industrial IoT – Machinery Remote Monitoring, High-value assets monitoring and control
Smart Cities – CCTV, Traffic Control, Lighting Management, Disaster Monitoring, Independent Living Management
R1520 Highlights:
1 x RS232 and 1 x RS485 for serial communication
GNSS for asset positioning (SMA connector)
5 x Ethernet ports (1 x WAN & 4 x LAN)
1 x AI, 1 x DI & 1 x DO for monitoring and control
Safe, flame retardant material
Wireless Access Point with Hotspot and client functionality
About Robustel
Robustel is one of the world's leading manufacturers of industrial quality solutions for the IoT and M2M market. Robustel's portfolio of award-winning solutions are comprised of: Wireless Modems, Routers, Gateways, EDGE Computing, Cloud Software and End-to-End IoT solutions.
As a supplier of wireless IoT hardware Robustel works with over 50 distribution partners servicing more than 120 countries and maintains a dedicated local presence in: Germany, Australia, Japan, UK, the Netherlands and Hong Kong.
Today Robustel's solutions can be found in every corner of the 'Connected World' providing IoT solutions to industries as varied as: Security, Vending, Retail, Utilities, Oil & Gas, Industrial Production & Automation, Transportation, Environmental Services and Healthcare.